Eastman Cnd Alt Trial Ita
Eastman Condensed famille composée de 44 polices
Accents (partiel)
Accents (complet)
Euro
Eastman-Condensed-Alt-Italic-trial.otf
Mots clés
Note de l'auteur
Eastman font is a condensed italic typeface designed by Francesco Canovaro of Zetafonts.
This font is for private/non-commercial use only!
To download the entire font family (all weights, glyphs and numbers) and obtain a commercial license, please visit our website:
https://www.zetafonts.com/eastman
For more information about our licenses:
https://www.zetafonts.com/licensing.
CONTACT US:
Website:
https://www.zetafonts.com
have a question?:
info@zetafonts.com
---
The original Eastman font family, designed in 2020 for Zetafonts by Francesco Canovaro and Andrea Tartarelli with the help of Solenn Bordeau and Cosimo Lorenzo Pancini, was conceived as a geometric sans-serif working family developed for maximum versatility in both display and textual use. The original wide range of weights has been supplemented with three additional widths to give you maximum control over the appearance of the text on the page. While Eastman Compressed and Eastman Condensed act as space-saving condensed font families, Eastman Grotesque adapts the family's design style to humanistic proportions. They all share a solid monolinear design and a high x-height that makes the main text set in Eastman eminently legible on paper and screen.
Influenced by the ideals of Bauhaus and contemporary minimalism, but with a nod to the pragmatic nature of 19th century grotesques, Eastman was developed as a highly reliable tool for solving design problems and given all the features a graphic designer needs - from broad language coverage (thanks to more than one thousand two hundred Latin, Cyrillic, and Greek characters) to a full suite of open type features (including small capitals, positional numerals, and case-sensitive forms). The most impressive feature of all Eastman fonts remains the huge selection of alternative characters and stylistic sets, allowing you to fine-tune your editorial and branding design by choosing unique, logo-ready variant letterforms. Don't want to waste too much time with a palette of glyphs? Use Eastman Alternate weights, which are meant to be used on display and represent a selection of some of the more eye-catching and unusual letterforms available for this family.
Table de caractères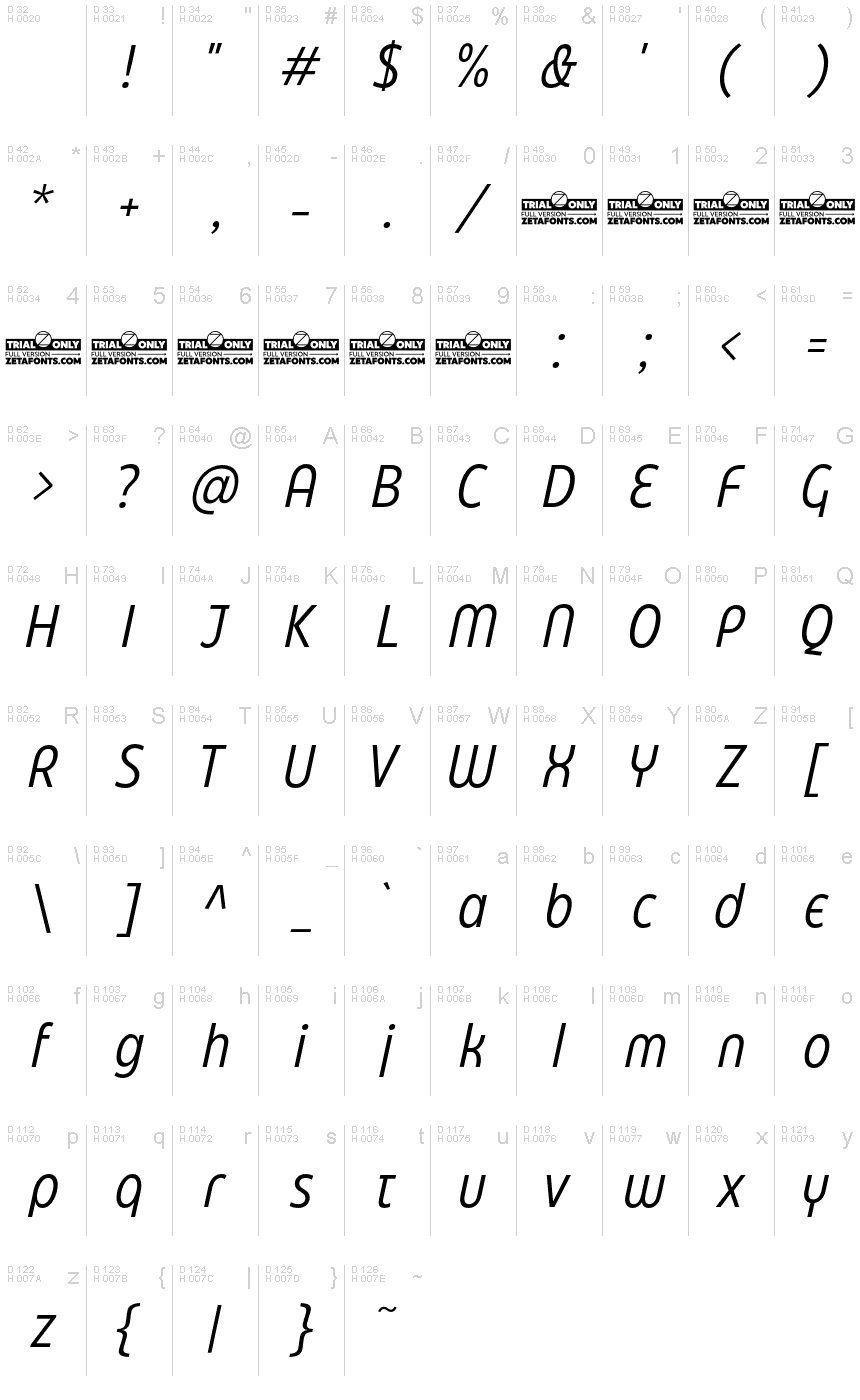 Informations sur les polices standards
Informations sur les polices étendues
Plateformes supportées
Détails de la police